We Now Offer Online Instant Gift Certificates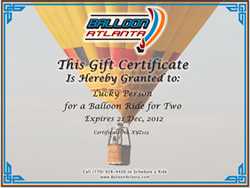 How it works:
Pick a Balloon Ride from our flights page first. Then, order your ride through our secure, online ordering system. After your credit card is processed, you will be presented a link to download your customized gift certificate. You will also be able to come back to our site and download your gift certificate for a period of up to one year from the date of purchase.
Gift certificates are valid for one year from the date of purchase and must be redeemed within that time. You will have a 15 day period following the purchase for a full refund.
To get started, click here.